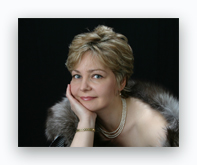 Vera Chernova DeFehr is a fashion designer, born and raised in St. Petersburg, Russia.  Vera studied her art at the University of Technology and Design while residing in St. Petersburg.  During her 5 years of study, she was trained in fashion design, fashion history and pattern design.  She also learned beading, embroidery, lace making, leather and fur construction from Russian mentors.  Her quest to learn new and exciting techniques continues by a constant and persistent study of great Russian designers, clothing constructors, and other talented craftsmen.
One of Vera's unique skills is fur and leather craft, which she had the great opportunity to learn from old Russian furriers.  Among her accomplishments, Vera has owned a studio and fashion school, Moda-Service, in St. Petersburg.  She has been successful at showing her original designs to many prestigious venues, such as the Catherine Palace, and received patents for several of her unique designs.  She has been published in both Russia and Great Britain.
After moving to California, Vera established her new design studio and is in the process of creating her new line Vernady.  Along with traditional pattern making methods such as drafting and draping, Vera uses the innovative program Three Dimensional Automatizing System for Pattern Making.  Vera was one of the co-creators of the 3D Body Scanner, which obtains human body measurements without physical contact.  The use of this new technology and sophistication are why Vera's style is known for its harmonious and well-balanced lines, perfectly suited to individual fit and taste, and has quickly established Vera's name among her very discerning private clients.